Dental Implants Are the Best Solution for Missing Teeth
Posted by Robert Astles, DDS on Sep 7 2023, 08:02 AM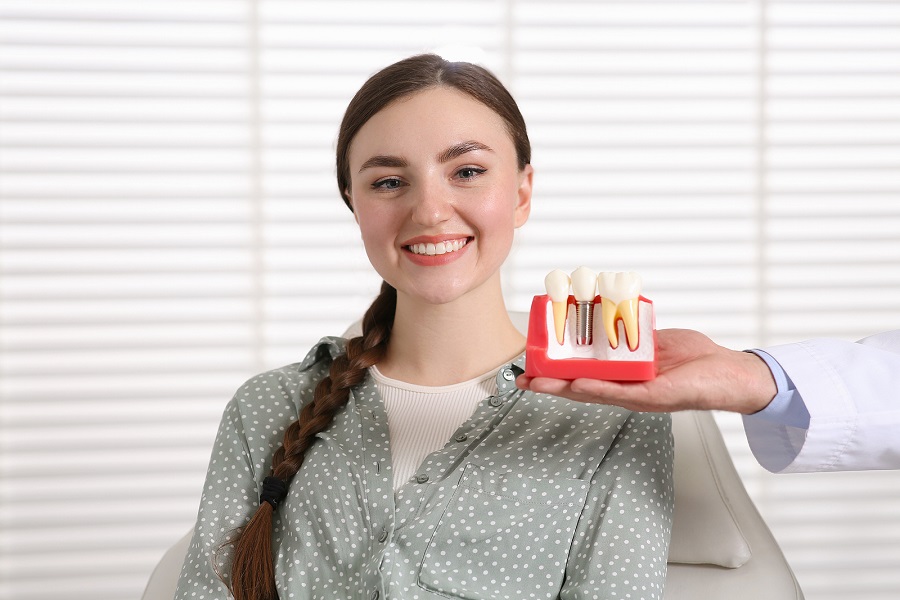 Dental Implants are artificial tooth roots made of titanium that are surgically placed into the jawbone. These tiny wonders act as sturdy anchors for replacement teeth or bridges. Unlike dentures, which rest on the gums and can slip or cause discomfort, dental implants provide a secure and permanent solution.
The Dental Implant Procedure
First, your dentist will conduct a comprehensive examination of your mouth and jaw. This includes taking X-rays and discussing your medical history. It is crucial to ensure that you are an eligible candidate for dental implants. Next, if necessary, any remaining damaged or decayed teeth will be removed. Once this step is complete, the dentist will assess the condition of your jawbone to determine if bone grafting is needed. Adequate bone density is essential for successful implant placement.
Afterward, a titanium post – resembling a small screw – is surgically inserted into the jawbone beneath the gum line. Over time, the post fuses with the surrounding bone through a process called osseointegration. Once osseointegration has occurred (typically several months later), an abutment is attached to the implant post. The abutment serves as a connector between the implant and the prosthetic tooth or crown. Custom-made crowns or prosthetic teeth are placed onto the abutments by your dentist. These artificial teeth blend seamlessly with your natural teeth in terms of both appearance and functionality.
Advantages of Dental Implants
If you're missing one or more teeth, dental implants could be the best solution for restoring your smile and oral health. Here are some advantages of dental implants:
Improved Aesthetics: Dental implants look and feel like natural teeth. They are designed to blend seamlessly with your existing teeth, giving you a beautiful and natural-looking smile.
Enhanced Functionality: Unlike dentures or bridges, which can slip or cause discomfort while eating or speaking, dental implants provide a stable foundation for chewing and speaking without any difficulty.
Long-lasting Solution: With proper care and maintenance, dental implants can last a lifetime. This makes them a cost-effective option compared to other tooth replacement methods that may require frequent repairs or replacements.
Preserve Jawbone Health: When you have missing teeth, the jawbone begins to deteriorate over time due to lack of stimulation from chewing forces. Dental implants help stimulate bone growth and preserve the integrity of the jawbone.
Improved Oral Health: Dental implants do not require altering adjacent healthy teeth, as in the case of bridges. This means that your natural teeth remain untouched, promoting better long-term oral health.
Boosted Self-confidence: Having gaps in your smile can often lead to self-consciousness and low self-esteem. By restoring your missing teeth with dental implants, you can regain confidence in your appearance and enjoy social interactions without hesitation.
To learn more, visit Dr. Robert Astles at 963 37th Pl, Vero Beach, FL 32960. Contact us at 772.562.5700 or visit our website for further information.