Flaunting Your Bright Smile With Dental Veneers
Posted by Robert Astles, DDS on Oct 8 2023, 05:41 AM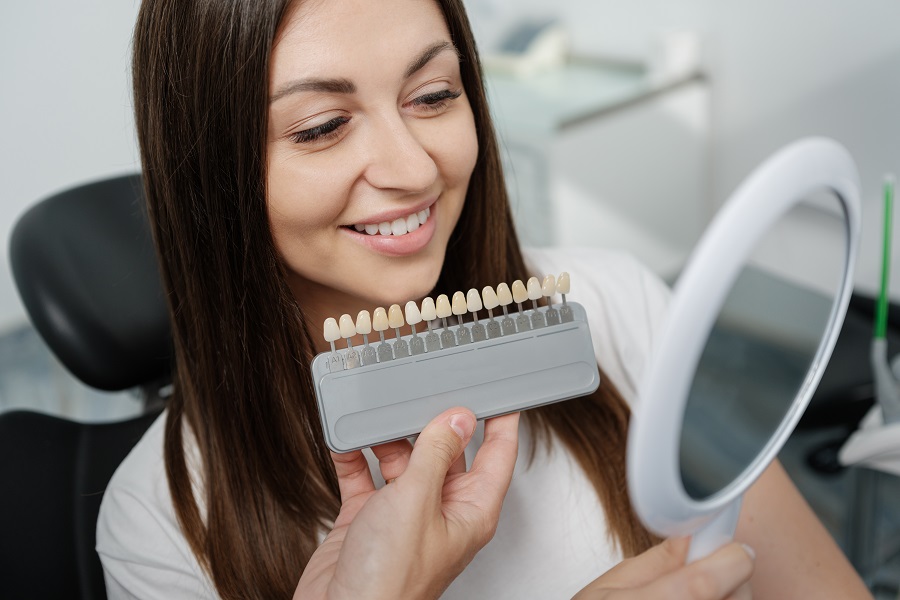 If you've ever wished for a straighter, more beautiful smile, then dental veneers might just be the solution you've been waiting for. These thin shells of porcelain or composite material can transform your teeth and give you the confidence to show off your pearly whites.
The Process of Getting Veneers - Consultation, Preparation, and Placement
To achieve that straight, beautiful smile you've always dreamed of, the process of getting dental veneers involves several important steps. It all begins with an initial consultation with your dentist. During this consultation, your dentist will carefully examine your teeth and discuss your goals and expectations. This is the perfect opportunity for you to ask any questions or address any concerns you may have about the procedure. Your dentist will also take X-rays and impressions of your teeth to ensure accurate placement of the veneers.
Once all necessary information has been gathered, the next step is preparation. In order for the veneers to fit seamlessly onto your teeth, a thin layer of enamel needs to be removed from their surface. Don't worry, though - this is usually painless! Afterward, impressions are taken again and sent off to a dental laboratory where custom-made veneers are created just for you. Finally comes the exciting part – placement! Before bonding them permanently in place using a special adhesive, your dentist will make sure that each veneer fits perfectly on its corresponding tooth. Once bonded into place, your new veneers will look natural and feel comfortable.
Benefits of Dental Veneers
Achieving a straight, beautiful smile is often at the top of many people's wish lists. Dental veneers can help make this dream a reality! These thin shells made from porcelain or composite resin are custom-designed to fit over your natural teeth, giving you a flawless and dazzling smile.
One of the key benefits of dental veneers is their ability to correct various cosmetic concerns. Whether you have discolored teeth that don't respond well to whitening treatments, gaps between your teeth that bother you, or unevenly shaped or sized teeth, veneers can provide a quick and effective solution. They can even improve the appearance of slightly crooked teeth without the need for braces!
Not only do dental veneers enhance the aesthetics of your smile, but they also offer durability and longevity. With proper care and maintenance, veneers can last upwards of 10-15 years before needing replacement. This makes them a long-term investment in both your oral health and self-confidence.
Another advantage of choosing dental veneers is their stain-resistant nature. Unlike natural enamel, which may be prone to staining from coffee, tea, red wine, or tobacco use, porcelain veneers are resistant to these substances and maintain their bright appearance over time.
In addition to their cosmetic benefits, dental veneers also provide functional advantages. They can strengthen weak or damaged teeth by acting as an extra layer of protection against further wear or breakage. Veneer placement typically requires minimal alteration to your natural tooth structure compared to other restorative procedures like crowns.
Dental veneers offer numerous advantages in terms of improving both the appearance and functionality of your smile. If you're looking for a solution that provides instant results with lasting effects, consider talking to your dentist about getting dental veneers!
To learn more, visit Dr. Robert Astles at 963 37th Pl, Vero Beach, FL 32960. Contact us at 772.562.5700 or visit our website for further information.