Encourage Good Dental Health Practices In Children
Posted by ROBERT ASTLES, D.D.S. on Jan 3 2020, 03:40 AM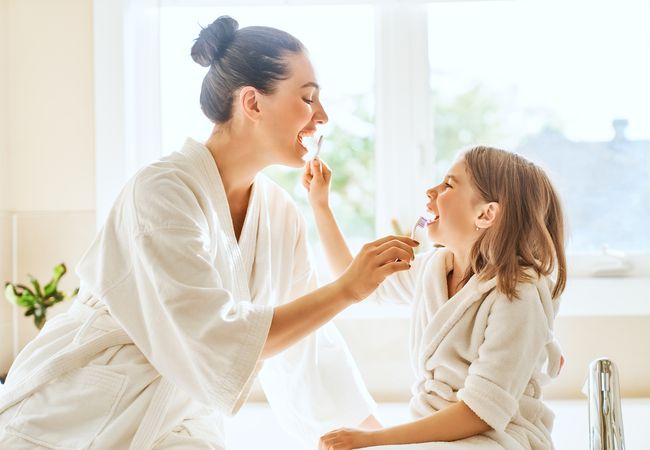 The attitudes and habits that children pick-up during their childhood often follows them into adulthood. If you teach your child to take proper care of their smile now, then it will help them enjoy better dental health throughout their life. Unfortunately, many parents assume that their children are going to lose their primary teeth, so it may not be necessary to pay attention to their oral health while they are young. But that is not true, because it is essential to have healthy teeth and gums right from a young age.

Why are primary teeth important?
There are 20 baby teeth in a full set of primary teeth, and most children will have all of them grown by the age of three. Primary teeth serve an essential purpose for the reasons mentioned below:
Acts as a placeholder for permanent teeth
They are necessary for the development of speech 
They are essential to fulfill the functions of the mouth
Help in promoting periodontal health
How can you encourage healthy dental habits for your child's smile?
If you encourage your child to care for their dental health, then it will be an investment in the future of their overall health and happiness. Patients who develop poor dental health and bad habits during their childhood would be prone to have difficulties with speech, tooth misalignment, gum disease, and malocclusion, also known as a "bad bite."
Being parents, it would help if you considered the following tips, such as:
Setting Up Routine Dental Visit: Routine oral hygiene habits include brushing and flossing, that are necessary to maintain a healthy smile. For optimal dental health, it is necessary to brush twice a day, i.e., in the morning and before bed, and floss at least once a day. Parents need to reinforce these healthy habits for their children in their early childhood.
Being A Good Role Model: Children see their parents as their role models, and dental health isn't any different. You need to ensure to take care of your own teeth so that your children are inclined to take care of theirs.
Be Mindful of Sugar in Your Child's Diet: It is necessary to limit sugar in your child's diet to protect their overall health and smile as well. If your child tends to consume a lot of sugar in their diet, then the presence of mouth bacteria could metabolize it to produce an enamel-eroding acid. As the enamel wears down, the child might risk in developing tooth decay and gum disease.
Call us 772-562-5700 or schedule an online appointment with Dr. Astles for a consultation at our office in Vero Beach, FL.