Porcelain Veneers
Posted by Robert Astles, D.D.S. on Oct 4 2019, 11:12 AM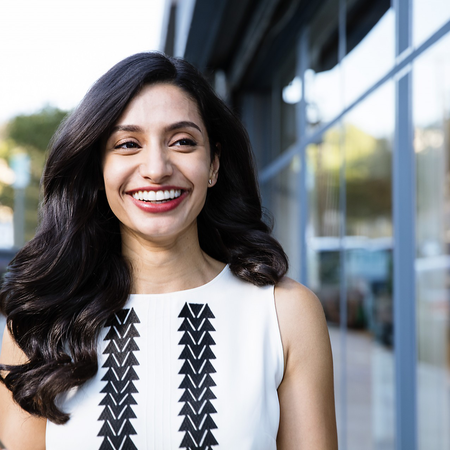 It's been over a decade since the arrival of porcelain veneers. There has been made a lot of advancements in the field of cosmetic dentistry in recent years, and dental veneers are among them. If you aren't happy with your smile, don't worry anymore, here are veneers to make you smile again. Now veneers can help you close the gaps in your teeth, even by avoiding braces that make you uncomfortable.
For making a traditional cosmetic crown, a large portion of the tooth structure would be removed. In such a situation, if the tooth is diseased, then it would be fine, but if the teeth are healthy, then they are actually losing their good teeth as well. This is the reason that the porcelain veneers were set up. A small layer of tooth structure is taken away by the dentist, and a porcelain veneer that has extremely thin ceramic coverings is used to fix on the front side of the teeth. But veneers cannot treat all your situations and so you should consult your dentist to find out what procedure is best for you.
What problems can be fixed by porcelain veneers?
Porcelain veneers can fix several minor to moderate dental problems.
Stained teeth can be treated with veneers. The stain might be due to root canal treatment, or maybe from the use of other drugs. 
Excessive use of fluoride or the presence of large resin fillings can lead to teeth discoloration.
It can treat those teeth that are worn down.
If you have chipped or broken teeth, then veneers are a great option.
Misaligned, uneven, or irregularly shaped teeth can also be treated.
Teeth that have spaces between them can also be closed even without any orthodontics. 
Is this treatment right for you?
If you are looking for a permanent solution to enhance your smile, then this treatment is perfect for you. Veneers can help in improving the strength and function of the teeth. Veneers can be only possibly placed if you have a healthy dental structure to support them. If you have a decayed tooth or any gum disease, then they should be treated before applying the veneers.
What are the benefits of porcelain veneers?
The veneers offer the following benefits:
They look just like your natural tooth.
Porcelain can be tolerated well by gum tissue.
Porcelain veneers have stain resisting property.
Dark teeth can be made to look whiter as the color of a porcelain veneer can be selected accordingly.
Veneers act as a much stronger, more aesthetic alternative.
How to care for these veneers?
Porcelain veneers don't need any special care. You need to maintain good oral hygiene practices. By brushing, flossing, and rinsing with an antiseptic mouthwash just as you do regularly can help veneers last longer. It is better if you avoid foods that can cause stains, such as beverages, as well. 
Find the best remedy for your stained, chipped or broken teeth by requesting an appointment with Dr. Astles today.